Glossary
Record number
Each work in the catalogue has a unique number (e.g. cm002468). These numbers have no significance beyond being an identifier.
Title 
McCahon's own title, whether inscribed on the work itself or published in catalogues authorised by the artist, is given in italic.
McCahon occasionally changed the title of a work after its initial exhibition. Generally the latest version of a McCahon title is preferred. Earlier titles are recorded in the work's 'Exhibition history'.
Where no title appears to exist that is traceable to McCahon, the work is supplied with a suitable title. These titles are enclosed within square brackets.
Series
McCahon worked in series throughout his career, making groups of work which are closely related to each other by their theme, style, or content.
His more formal use of the term 'series' first appeared in the 1950s (e.g. Towards Auckland). This gathered momentum with the Elias series of the late 1950s, and from the late 1960s McCahon began using the word 'series' as part of the title of individual paintings.
It is these more formal 'series' that are referred to in the catalogue.
Date 
The date given in the catalogue is the year in which a work was executed. In the case of a work produced over a number of years, the date range is recorded (e.g. 1978–1979).
McCahon dated some works retrospectively and, in some cases, inaccurately. Corrected dates are included.
Where a date cannot be definitively established, a circa date is given (e.g. c. 1946). A circa date allows for approximately one year each side of the given date, that is, a period of three years.
If less certainty exists about the period in which the work was executed, a date range is used (e.g. c. 1960–65).
Medium 
McCahon used a variety of painting media. Before 1953, his paintings are primarily in traditional artist's oil paints.
During the 1950s, he worked with a range of commercial house paints with brand names such as Solpah and Monocoat. These are described in the catalogue as 'enamel'. The use of sand or sawdust for texture is noted.
In the 1960s McCahon experimented with new synthetic media, including PVA and acrylic paint. These are catalogued as 'synthetic polymer paint'. In some cases, especially the Waterfall series, uncertainty remains about the exact medium used.
McCahon was similarly diverse in his works on paper. As well as conventional watercolour, he also used synthetic polymer paints, gouache, and diluted watercolour (catalogued as 'wash').
His drawing media include crayon, conté crayon, pastel, charcoal, and pencil. These are recorded in the catalogue as exactly as possible. Works made with ink generally describe the implement used (e.g. brush and ink).
McCahon's small output of prints included linocuts, woodcuts and other relief prints, as well as monoprints of various kinds. In the 1950s McCahon produced a number of lithographs.
Support 
As with his choice of media, McCahon was wide-ranging in his use of supports, especially for painting.
McCahon's work is notable for his use of loose hanging canvas, catalogued as 'unstretched canvas'. He also painted on jute canvas (elsewhere referred to as burlap or hessian).
'Hardboard' is used to describe a variety of compressed wood-fibre boards which McCahon favoured in the 1950s and 1960s. McCahon used commercially prepared canvasboards in some works of the late 1970s.
In some cases, McCahon's paintings have a secondary support (e.g. canvas adhered to cardboard). This is catalogued as 'canvas on cardboard'.
Where a work was placed on a secondary support by someone other than the artist (as in the case of many of the paintings on paper of the 1970s), this is catalogued as 'paper mounted on hardboard'.
Dimensions 
Dimensions are given in millimetres, height before width (or height before width before depth in the case of three dimensional works).
Where a work cannot be measured in its entirety (e.g. because of a frame), the recorded dimensions are given as sight measurements, with the abbreviation '(s)'.
For multi-part works the individual dimensions of each unit are given as well as, where possible, the overall dimensions.
Inscriptions
McCahon's signature, as well as the work's date, title, dedication, or any other inscriptions are recorded as exactly as possible.
This excludes written elements of a work which are integral to its pictorial composition. These are recorded under 'Extended Inscriptions'.
Where possible, inscriptions on the reverse of a work or its backing board are recorded.
Where an inscription runs over several lines a forward slash ( / ) is used to indicate line breaks. Inscriptions on different parts of the work are separated by a semicolon.
The medium or implement used to make the inscription is recorded, followed by the location of the inscription. Locations are identified as follows: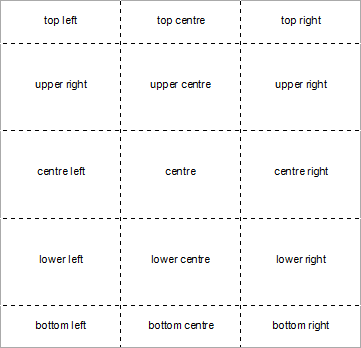 Collection 
The current names of public collections and other institutional owners of McCahon's works are recorded. All privately owned McCahon works are identified as 'Private collection'.
Credit line 
For works in public collections, the catalogue records the date and means of acquisition in the institution's usual manner.
Accession number
For works in public collections, the catalogue records the accession, registration or catalogue number normally used by the institution.
Extended inscriptions
Painted or drawn texts that are integral to the visual image of McCahon's works are recorded in the catalogue as 'Extended inscriptions'.
The style of McCahon's writing is followed as closely as is practical. As these inscriptions are in McCahon's hand, they are given in italic. For short texts a forward slash ( / ) is used to indicate line breaks, and separate inscriptions are given on a new line. Longer texts are recorded following McCahon's form, including line breaks. Locations are recorded as for 'Inscriptions'.
Where a text breaks into a number of sections across a work, these are recorded either according to their location or textual flow, whichever is more intelligible. The location of very long texts and those that occupy the entirety of a work is generally not recorded.
Sources of McCahon's painted or drawn texts are catalogued under 'Notes'.
Exhibition histories 
Where known, exhibition histories of a work are recorded.
These histories are not exhaustive, but generally include the first occasion on which a work was exhibited as well as subsequent major exhibitions. In the case of touring exhibitions, only the originating venue is identified.
Notes
The catalogue records various types of additional information about a work. This includes clarifying any matters related to a work's title, date, or medium, the source of painted or drawn texts.
Unusual circumstances relating to a work's production or exhibition are recorded. Specific relationships with other works by McCahon are also noted.