About McCahon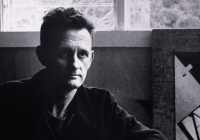 Colin McCahon, Titirangi, c. 1958. Courtesy of McCahon Family Archive
Colin McCahon is widely recognised as New Zealand's foremost painter. Over 45 years, his work encompassed many themes, subjects and styles, from landscape to figuration to abstraction and an innovative use of painted text. His adaption of aspects of modernist painting to a specific local situation and his intense engagement with spiritual matters, mark him out as a distinctive figure in twentieth-century art
Beginnings
Colin John McCahon was born in Timaru on 1 August 1919. He showed an early interest in art which was stimulated by the work of his maternal grandfather, photographer and painter William Ferrier, as well as regular visits to exhibitions.
As a teenager McCahon attended Russell Clark's Saturday art classes, before enrolling at the Dunedin School of Art (1937–39), where Robert N. Field proved an inspirational teacher. He first exhibited his works at the Otago Art Society in 1939.
In 1942, McCahon married fellow artist Anne Hamblett (1915–1993). The couple went on to have four children.
The war years
At the beginning of World War II McCahon worked in prescribed industries in support of the war effort. Later he travelled around the South Island getting seasonal work, leaving his family at home. His work from this time reflects the places he went to, particularly the Nelson region.
McCahon's first mature works, religious paintings and symbolic landscapes such as The Angel of the Annunciation, Takaka: Night and Day, and The Promised Land, emerged in the years immediately after the war.

Towards Auckland
Thanks to the generosity of Charles Brasch (the Dunedin-based poet and founding editor of the literary journal Landfall), McCahon was able to visit Melbourne from July to August in 1951 to study paintings in the National Gallery of Victoria.
In May 1953 the family moved to Auckland where McCahon began work at the Auckland City Art Gallery, and they bought a house in Titirangi. In April 1956 he became Keeper and Deputy Director of the Gallery. McCahon assisted in the professionalisation of the gallery and the first exhibitions and publications to record a New Zealand art history.
 
Between April and July 1958 McCahon and his wife visited the United States on Gallery business, but also used the opportunity to see art that interested him. Paintings such as The Wake and the Northland panels reflect McCahon's immediate response to this visit, and his stylistic development accelerated over the following decade.
 
Teaching and exhibiting
In 1960 the family moved to a house in central Auckland, and in August 1964 McCahon resigned from the Auckland City Art Gallery to take up a position as a lecturer in painting at the University of Auckland's Elam School of Fine Arts. He taught there for six years, influencing a generation of artists.
During the 1960s McCahon was increasingly successful in having his work shown and recognised both in New Zealand and internationally. In January 1971 he left Elam to paint full-time.
The 1970s were richly productive years for McCahon, with numerous exhibitions. A second retrospective of his work was presented at Auckland City Art Gallery in 1972 (the first, a joint exhibition with Toss Woollaston, was held in 1963).
Last years
However by the late 1970s McCahon's health was deteriorating because of his long-term alcoholism, and by the mid-1980s he was suffering from dementia. In 1984 the exhibition I Will Need Words was presented as part of the Biennale of Sydney, but McCahon was barely able to appreciate his growing international reputation. He died in Auckland Hospital on 27 May 1987.
Auckland City Art Gallery presented another retrospective the following year, Colin McCahon: Gates and Journeys. Further major exhibitions, both in New Zealand and overseas, have followed.